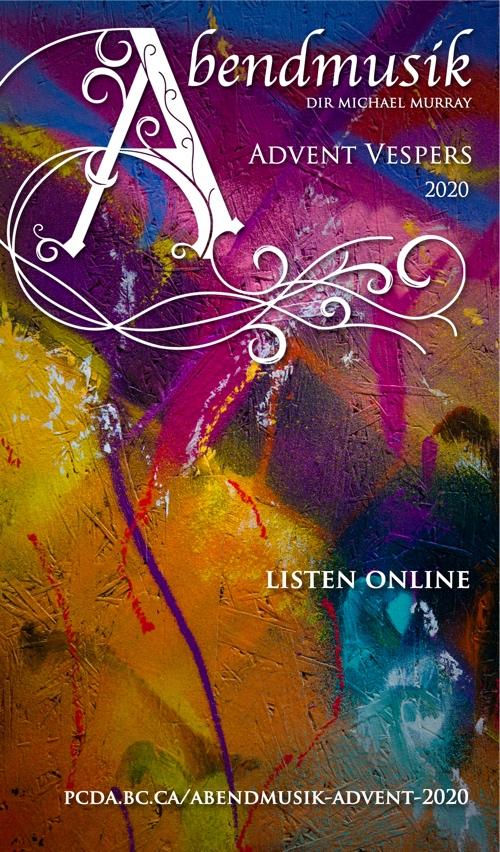 The Abendmusik Vesper Choir is pleased to share the recording of our 2020 Advent worship service:
While our pre-COVID choir normally consists of 24 singers, we had 9 masked singers and a technical crew make the recording on November 16th while carefully following the safety protocols of the sanctuary at St. Philips Anglican Church in Vancouver, BC.
A few words from the Pacific Centre for Discipleship Association (PCDA),
The importance of a safe and stable home is on everyone's mind these days. While we moved out of the Menno Simons Centre at the beginning of the summer, we were pleased to see that by the time the fall academic term started at UBC, the Gerard House that we own on Wesbrook Mall has students from University Christian Ministries living together and making the best of difficult circumstances.
Our society is still working with our partners at the MCC Legacy Trust on the Menno Hall project in the University Endowment Lands for our new student residence, rental housing, and meeting spaces. The lesson of patience in the Advent season surely applies to our building plans, as we await approval of land use bylaw changes by the government to set the foundation for our upcoming rezoning application.
Being able to listen to the prayers and choral sounds of the Abendmusik Vesper Choir—even if not in person this time—is a comforting continuation of a tradition that we were very fortunate to be able to capture and share in these trying times. Our hearts go out to those families who have been impacted by the virus, and we wish everyone the best of safety and support until we meet again!
Kevin Hiebert
President and Chair of the Board of Directors
If you haven't already done so, you can subscribe to receive future newsletters by e-mail.
As a not-for-profit society and registered charity, we gratefully accept donations through the methods described on our web site. Thank you very much for your generosity!
Podcast: Play in new window | Download (Duration: 23:38 — 54.1MB)
Subscribe: RSS