[ARCHIVE] Menno Simons Centre Residence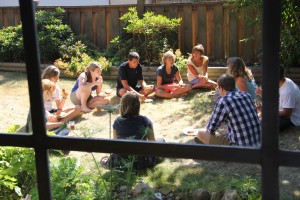 IMPORTANT: The Menno Simons Centre in West Point Grey is now closed, having served us well for many years.  Please stay tuned for exciting updates on the future of Menno Hall!
---
The Menno Simons Centre is a not-for-profit student residence in the Point Grey neighbourhood of Vancouver, near the University of British Columbia. It is an off-campus residence, and our student residents attend a wide range of post-secondary institutions in the area.
The Centre was named after Menno Simons, the founder of the Mennonite heritage in the Christian faith, in recognition of its purpose to nurture Christian community and practice from an Anabaptist perspective.
The Centre was opened in 1986 when the Pacific Centre for Discipleship Association recognized a need for a Christian residence where students could grow in their faith while attending university. The Centre is not just a place to live. It's an intentional community of people seeking to integrate their faith and learning and exploring what it means to live in Christian community.   
There are a number of amenities available to every resident:
There are 24 single rooms at the Centre.
Each room contains a bed, closet, and desk. Many also have a sink.
As an act of service to the community and the facility, all students are required to contribute to weekly cleaning tasks.
There are two fully-furnished kitchens for students to do their own cooking, as well as shared bathrooms.
A large dining room, study lounge, small chapel, recreation/TV lounge, laundry, and bike storage room are available for resident use.
A guest room is available for overnight visitors of current residents.
A bus stop is located just a block away, and it's only a ten minute ride to UBC. Students can also bike there in 15 minutes.