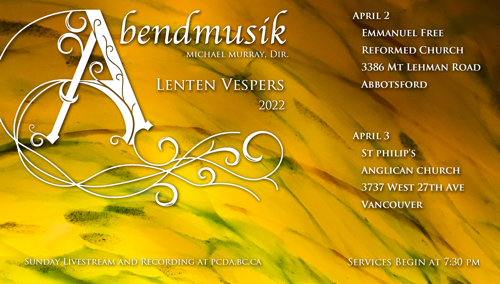 Please join the Abendmusik Vesper Choir at 7:30 p.m. for an hour of Choral Music for the Lenten season. See maps and links to driving directions on the "Hear us sing" page.
Saturday, April 2 in Emmanuel Free Reformed Church, 3386 Mount Lehman Road, Abbotsford, BC (map)
Sunday, April 3 in St. Philip's Anglican Church, 3737 West 27th Avenue, Vancouver, BC (map) or watch the Livestream online (on Facebook, but no account required). You can download and read the programme hand-out (16-page PDF) to follow along.
As an indoor organized gathering with more than 50 people expected to attend, the appropriate COVID-19 SAFETY PROTOCOLS in effect at each church at the time will be followed. [Update as of April 3rd: this indoor choral event still requires presentation of proof-of-vaccination or proof-of-exemption per the PHO's Province-wide restrictions in effect through April 8th. Masks are optional but encouraged.]
Donations will be gratefully accepted in support of the Menno Hall project, our new student residence to be constructed at the gateway of UBC in the University Endowment Lands.